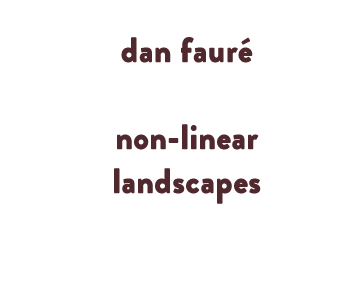 General themes
Landscapes have to be more than just a photographic or exact portrayal of nature. Many artists in the past have tried to reproduce a kind of photographic exactitude of a beautiful spot. But then you end up with just that: a pretty picture. I can't be satisfied with just that.

I try to visualize or at least evoke some of the different forces acting upon nature and shaping it, the higher harmony present in the extreme chaos of nature, the amalgamation of tiny variations in color or the chaotic structuring of so many elements that make up nature.

My first concern lies with the painting itself that has to be a strong painterly image within a compelling composition. I use the language of nature and painterly approaches - the use of various grounds: foregrounds to backgrounds going one into another, use of depth through color and black, use of delineation by painterly 'constructs', stacking of landscape elements- to recreate and construct landscapes based on memory, intuition and an aesthetic feel. As such the portrayed landscape becomes a 'carrier' of deeper emotions, thoughts, artistic ideas or even higher aspirations. The landscape thus becomes a metaphor.

All further information at: dan [at] danfaure.com